SILVER LIGHT RIG produces fine art prints on gallery wrapped canvas.  They are produced with the finest archival materials available.  Images may be viewed on the next page (click on the Menu above)
WORKSHOP CONSULTANTS
SILVER LIGHT RIG cutting edge workshops are a resource to photographers, publishers and galleries for prepress workstations that produce fine art photographic prints, fine art giclee prints, books and other digital media.  We are system integration advisers for computer workstations, calibrated monitors, high resolution professional drum and flatbed scanners, digital cameras, image processing software, RIPS, color management software and hardware, fibrechannel RAID storage network systems for large image files, wide format professional inkjet printers, professional color laser printers, desktop printers, proofers, media and supplies.
DIGITAL DESIGNS

Kyoto
SILVER LIGHT RIG – DIGITAL DESIGN of Kyoto, Japan, is a visit to the grande studio of Uichi Shimizu, Japanese Living Treasure.  The Master provided a rare view of his throwing technique.
Nikko
SILVER LIGHT RIG – DIGITAL DESIGN of Nikko, Japan, is a view of the silent early morning snow that fell on the historic mountain village of Nikko.  The surrounding forest echoed muffled sounds.  The muffled sounds were followed by whispers of expressed amazement of the surrounding beauty.
SILVER LIGHT RIG – DIGITAL DESIGNS are a collection of fine art digital design prints.
SILVER LIGHT RIG – DIGITAL DESIGNS have layers of transparent reflective forms of familiar objects in respectful remembrance of times past.
SILVER LIGHT RIG – DIGITAL DESIGNS are fine art prints on gallery wrapped canvas.  They are produced with the finest archival materials available.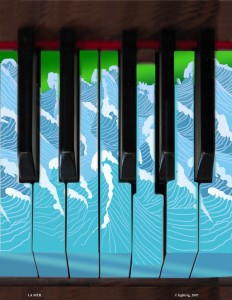 La Mer
visualize
SILVER LIGHT RIG – DIGITAL DESIGNS realize Visual Studies and Visual Culture are similar.  They both aim to provide an interdisciplinary platform for students.  These students are interested in becoming scientists, anthropologists, sociologists or whatever.  Visual observation is crucial to knowledge in science, artistic expression and in almost every other field.
Students arrive at the universities with a technical capacity in imaging.  They are able to produce and view enormous quantities of images.  This is due to the predominance of the electronic media and  it's steady growth.  The newest methods of digital technology make programs and systems easier to use.  Nearly everyone seems to enjoy visual literacy.  That has produced a sophistication that is unprecedented in all of art history.
Machine vision assists in the interpretation of images from cameras and sensors.  A common visual language enables visual perception and produces visible images.
Visual perception explores the metanarrative of what has been done, what is being done at present and what is expected to be done in the future.  Then, it continues to explore  what is happening in neurobiology.  It forecasts scientific revelations and expectations for the knowledge seeking visual brain.  "True Yesterday, True Today, True Tomorrow!" that is my definition of a Classic spoken by the writer of EVERYBODY COMES TO RICK'S by MURRAY BURNETT, the inspiration for the great film CASABLANCA.  Metanarrative is the highest truth in Russian philosophy.  The grand narrative spoken in John 6:47: "I tell you the truth, he who believes has everlasting life." NIV
Fine Art ranges between contextual statements and l'art pour l'art or art for art's sake – that fine art does not need to serve a purpose.  Most college students lean toward contextualism.  The knowledge seeking brain has a voracious appetite for knowledge.  There appears to be an underlying layer of principles already in place that may serve as a conscience seeking truth.  Today, neurobiology science is interviewing artists to learn about the artist's ability to transmit knowledge in an instant.
Leonardo da Vinci ranked the arts in his Paragon of the Arts.  He concluded that sculptures and paintings were superior because of their ability to instantly deliver a statement or beauty.  Music and the literary arts took time to  experience their artful expressions.
Communications of our time are dependent upon the speed of light.  A forecast in the future may include instant communications – similar to prayer.  Instant travel may be a subject of the future.
Valse Triste
Sabellius' VALSE TRISTE is the moving expression of his greatest loss when his mother passes away.
Things I Value Never Change
"Things I value never change" was spoken By General Douglas MacArthur to FDR aboard ship in Hawaii during WWII
SILVER LIGHT RIG – DIGITAL DESIGNS

may be viewed on the next page (click on the Menu above – upper right)
silverlightrig.com™ ©2016